Family HVAC Blue Bell
Your heating and cooling experts in Blue Bell, PA 19422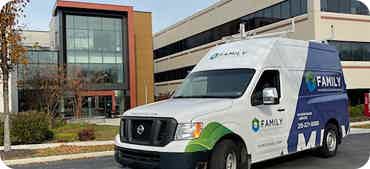 Hours Of Operation
24/7 Phone Support
Emergency HVAC Services
Online Booking
Address
325 Sentry Parkway, Suite 200,
Blue Bell, PA 19422
Phone
Call: (267) 440-6733
Text-A-Tech: (215) 703-9696
Email
About
Blue Bell
Pennsylvania
Blue Bell spans slightly more than five miles yet there is plenty to do in this Pennsylvania treasure. Whether you are a Blue Bell native or originally hail from another location, you should be proud to call this beautiful little township your home. Home to more than 6,000 people, Blue Bell was initially known as Pigeontown. The town's original namesake was chosen in response to the enormous pigeon flocks in the area. Today, Blue Bell is well-developed, featuring large business parks, extensive shopping opportunities, a wide array of small businesses and some truly amazing homes. In fact, Money magazine has ranked the township as one of the best places to live in the entire country.

At Family Heating & Air Conditioning, our heating and cooling specialists are here for all homeowners and business owners throughout the greater Blue Bell, PA area. Our technicians live and work right here in Blue Bell and its surrounding cities so you will be provided with quick, efficient and prompt service knowing your air replacement, air repair or other heating/cooling project will help stimulate the local Blue Bell economy.
Why Choose Us?
Your HVAC system isn't something you should have to think or worry about, that's why you have Family HVAC. Our old school values and craftsmanship combined with new age technology make us the clear choice for your HVAC needs.
Learn More
Service & Repairs
$49 Tech to Your Door for Inspection and Diagnostics
Our trained and certified technicians provide you with expert knowledge of your system, as well as walk you through the process of your hvac repair or replacement service. If your looking for the best HVAC repair or service near Blue Bell, PA, you've come to the right place.
Family HVAC HEATING SERVICES
Near Blue Bell, PA 19422
Heater Repair
Heater Replacement
Heater Maintenance
Heater Install
Heating System Upgrades
Heating Service Technician
Boiler Repair
Boiler Replacement
Boiler Maintenance
Boiler Install
Furnace Installation
Furnace Repair
Furnace Maintenance
Furnace Protection Plan
Family HVAC AC SERVICES
Near Blue Bell, PA 19422
AC Repair
Air Conditioning Replacement
Air Conditioning Installation
AC Maintenance
AC Service Technician
Family HVAC HEAT PUMP SERVICES
Near Blue Bell, PA 19422
Heat Pump Repair
Heat Pump Replacement
Heat Pump Installation
Heat Pump Maintenance
Heat Pump Service Technician
Family HVAC AIR QUALITY IMPROVEMENT
Near Blue Bell, PA 19422
Duct Sanitizing
Air Quality Monitoring
Air Quality Testing
In Home Dehumidifier Installation
In Home Humidifier Installation
Ductwork UV Light Installation
Family HVAC WHOLE SYSTEM SERVICES
Near Blue Bell, PA 19422
Whole HVAC System Upgrade
Whole HVAC System Replacements
Whole HVAC System Protection Plans
Whole HVAC System Maintenance
Whole HVAC Service Technician
Family HVAC MAINTENANCE SERVICES
Near Blue Bell, PA 19422
Air Conditioner Maintenance
Heater Maintenance
Boiler maintenance
Heat Pump Maintenance
Furnace Maintenance
Air Conditioning Services
+
Air Quality Improvement
+
Whole HVAC System Services
+
Our certified technicians will perform a complete evaluation and cost analyisis of your HVAC system.
View our payment options, flat rate pricing and financing available for repairs and replacements.
Protect Your Investment
When you schedule a seasonal maintenance visit with Family HVAC you are automatically enrolled in our Family Comfort Protection Plan. You'll have access to FREE emergency service visits, discounts on repairs, replacements and upgrades, preferred customer status, and so much more!
Get Protected
Shop HVAC Products
Near Blue Bell, PA 19422
Family HVAC Services Blue Bell, PA 19422 and surrounding areas in Bucks County and Montgomery County
FAMILY HVAC SERVICE AREAS
Near Blue Bell, PA and surrounding areas in Bucks County and Montgomery County, including:
Jarrettown, PA 19025
Spring House, PA 19002
Spring House, PA 19477
Flourtown, PA 19031
Flourtown, PA 19038
Gwynedd, PA 19436
North Wales, PA 19454
Blue Bell, PA