Family HVAC Doylestown
Your heating and cooling experts in Doylestown, PA 18901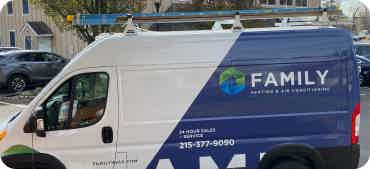 Hours Of Operation
24/7 Phone Support
Emergency HVAC Services
Online Booking
Address
196 West Ashland Street,
Doylestown, PA 18901
Phone
Call: (215) 647-0688
Text-A-Tech: (215) 703-9696
Email
About
Doylestown
Pennsylvania
Doylestown, the county seat of Bucks County, is a borough revered as a bucolic locale for wayward adventurers, Doylestown has unique character, culture and more to do than most outsiders would guess. Though Doylestown's population hovers around the 10,000 mark, it is economically vibrant and has more than its fair share of attractions. Doylestown's roots date all the way back to the spring of 1745 when William Doyle secured the license necessary to build a tavern in the area. An Inn followed, and the town gradually took shape.

When in Doylestown, check out the National Register of Historic Places and you will find Doylestown has the Pugh Dungan House, the Fountain House, the Mercer Museum, the Shaw Historic District and Moravian Pottery. Doylestown stretches across slightly more than two square miles. Those who are looking to experience Doylestown's nature will find Neshaminy Creek and Cooks Run are lovely natural features worthy of at least a couple snapshots.
Why Choose Us?
Your HVAC system isn't something you should have to think or worry about, that's why you have Family HVAC. Our old school values and craftsmanship combined with new age technology make us the clear choice for your HVAC needs.
Learn More
Service & Repairs
$49 Tech to Your Door for Inspection and Diagnostics
Our trained and certified technicians provide you with expert knowledge of your system, as well as walk you through the process of your hvac repair or replacement service. If your looking for the best HVAC repair or service near Doylestown, PA, you've come to the right place.
Family HVAC HEATING SERVICES
Near Doylestown, PA 18901
Heater Repair
Heater Replacement
Heater Maintenance
Heater Install
Heating System Upgrades
Heating Service Technician
Boiler Repair
Boiler Replacement
Boiler Maintenance
Boiler Install
Furnace Installation
Furnace Repair
Furnace Maintenance
Furnace Protection Plan
Family HVAC AC SERVICES
Near Doylestown, PA 18901
AC Repair
Air Conditioning Replacement
Air Conditioning Installation
AC Maintenance
AC Service Technician
Family HVAC HEAT PUMP SERVICES
Near Doylestown, PA 18901
Heat Pump Repair
Heat Pump Replacement
Heat Pump Installation
Heat Pump Maintenance
Heat Pump Service Technician
Family HVAC AIR QUALITY IMPROVEMENT
Near Doylestown, PA 18901
Duct Sanitizing
Air Quality Monitoring
Air Quality Testing
In Home Dehumidifier Installation
In Home Humidifier Installation
Ductwork UV Light Installation
Family HVAC WHOLE SYSTEM SERVICES
Near Doylestown, PA 18901
Whole HVAC System Upgrade
Whole HVAC System Replacements
Whole HVAC System Protection Plans
Whole HVAC System Maintenance
Whole HVAC Service Technician
Family HVAC MAINTENANCE SERVICES
Near Doylestown, PA 18901
Air Conditioner Maintenance
Heater Maintenance
Boiler maintenance
Heat Pump Maintenance
Furnace Maintenance
Air Conditioning Services
+
Air Quality Improvement
+
Whole HVAC System Services
+
Our certified technicians will perform a complete evaluation and cost analyisis of your HVAC system.
View our payment options, flat rate pricing and financing available for repairs and replacements.
Protect Your Investment
When you schedule a seasonal maintenance visit with Family HVAC you are automatically enrolled in our Family Comfort Protection Plan. You'll have access to FREE emergency service visits, discounts on repairs, replacements and upgrades, preferred customer status, and so much more!
Get Protected
Shop HVAC Products
Near Doylestown, PA 18901
Family HVAC Services Doylestown, PA 18901 and surrounding areas in Bucks County and Montgomery County
FAMILY HVAC SERVICE AREAS
Near Doylestown, PA and surrounding areas in Bucks County and Montgomery County, including:
Doylestown, PA 18933
Chalfont, PA 18914
Jamison, PA 18929
Warrington, PA 18976
Buckingham, PA 18913
Buckingham, PA 18902
Forest Grove, PA 18922
Forest Grove, PA 18925
Hartsville, PA 18974
Richboro, PA 18954
Bennets Corner, PA 19001
Furlong, PA 19025
New Hope, PA 18938
New Britian, PA 18914
New Britian, PA 18901
Colmar, PA 18915
Montgomeryville, PA 18936
Foutainville, PA 18923
Plumstead, PA 18947
Doylestown, PA