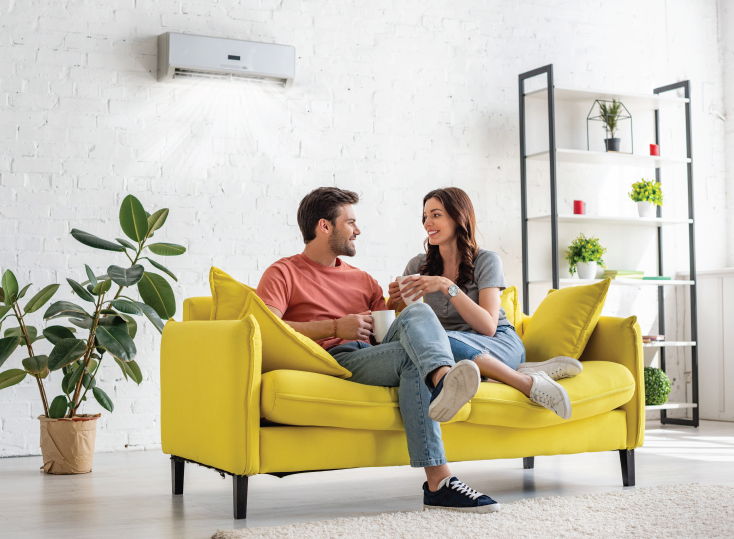 October 8th, 2021 at 5:20 AM
Winter, for many reasons, is a season when interior air quality can dip to unhealthy levels. When it\'s not practical to open windows for fresh air, the air we breathe can become increasingly contaminated.
Keep Your Home Spotlessly Clean
Dust, vacuum and polish home surfaces regularly to prevent the circulation of airborne pollutants. Use non-toxic and natural cleaning agents whenever possible, especially in the winter when fumes from harsh chemicals can linger longer. Choose products that will capture the particles rather than spread them. Protect yourself by wearing a mask while you clean.
Add Humidity to Dry Air
Lower humidity in winter is a problem for many people, causing dry throats, itchy eyes and nasal passages and dry skin. Add a humidifier to your HVAC system to introduce moisture vapor directly into the heating ducts. In addition, proper humidity levels will help control dust mites and animal dander, and should reduce static electricity levels.
Check Your Filters
HVAC filters exist for good reason, and they're designed to trap many types of airborne pollutants. But they cannot perform as needed when they are clogged and dirty. Don't rely only on the calendar for regular filter replacement; check and change those filters more often when your heating and cooling systems are in use more often. Check with your HVAC contractor to determine if an upgrade to a more efficient filtering system is possible and cost-effective. Family Heating & Air Conditioning can inspect your current system and make recommendations.
Clean the Air Ducts
Dust, dirt and debris can become trapped in the ducts. Because your HVAC system is a vital component of your home's "health," it's wise to schedule periodic duct inspections, not only to promote air quality but for better operational efficiency.
Increase Ventilation
It's normal in winter to want to control drafts, but ventilation is essential to air quality. Use appliance fans to control odors, ceiling fans to circulate air, and natural air fresheners like living plants whenever possible. Try to determine the cause of stuffy air, window condensation and mold buildup and eliminate the problems. Open doors and windows on pleasant days.
Investigate New Technology
A surface and air sanitation system that is also an effective virus killer offers dramatic lasting protection through an electro-mechanical process. Not only does the system disinfect surfaces; it also kills viruses and bacteria, eliminates odors and allergens, inhibits mold and mildew growth, and sanitizes HVAC ducts. It offers serious advantages for automotive sanitation, but it also has potential for surfaces in the home. Permasafe is a protective coating that may indeed become the ultimate way to help boost a home's interior air quality. It offers non-toxic protection that will not evaporate and that continues to provide active anti-microbial surface protection for months.
Install an energy-recovery ventilator to improve your home's air quality throughout the year. High-tech ventilation systems, Sometimes termed air-heat exchangers, these modern ventilation systems remove stale air and replace it with fresh outdoor air without using extra energy. They will also help control interior humidity levels in warm seasons.
Air purifiers and air scrubbers designed for commercial buildings have now been adapted for home use. Some require activated carbon filters to be effective, but developing technology will no doubt lead to less costly, more effective options, and offer protection against viruses and bacteria as well as dust, mites, dander, smoke, pollen and other pollutants.
For additional information about modern solutions, contact Family Heating & Air Conditioning in Jenkintown, PA 19046, or call us at 215-377-9090.