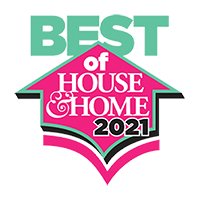 Family Heating & Air Conditioning - Featured in House & Home Magazine and voted the Best Heating and Air Conditioning Company in Bucks County and Montgomery County 2021
Family HVAC, where old school values meet new technology to give you safe, clean indoor air and comfort satisfaction in Bucks and Montgomery County.
We didn't just pop up out of nowhere, we've been here all along. With well over a quarter-century of experience and knowledge, in addition to teaming up with the industry's best experts, top manufacturers with state of the art technologies, and the highest quality vendors. We have become the 21st Century high tech customer-oriented Heating & Air Conditioning company you can rely on.
By using data and feedback from our 30+ years in the residential and commercial arena, we were able to progress technically and rewrite the script in the industry, while also maintaining a sense of tradition in customer service values and respect towards our clients.
Did you know...
Poor indoor air quality is one of the top 5 greatest health risks listed by the EPA? With Americans spending up to 90% of their time indoors, Family HVAC prioritizes the safety of the air you are breathing by offering FREE air monitoring during all service visits.
When you're in our family, we treat you like family.
While we're inside the home, our clients rely on our expertise to provide a thorough and honest analysis of the HVAC equipment in question. The comfort, health and livelihood of our clients are the first to be considered when discussing options and the best next steps.
Heating, cooling and ventilation systems are not a one-size-fits-all cookie-cutter product. Each component is separately installed to match the specific system, layout of your home and aesthetic preferences when applicable. We walk each client through the process to give them a full understanding of their system, because trust is what matters most when choosing an HVAC company. Not only to give you an honest analysis of your system when checked, but to also install the components correctly in the first place.
If components are installed incorrectly or left unchecked, the results are more than just a headache and a hefty bill. Unchecked systems can cause poor air quality in your home.
You typically trust your home or workplace to be safe accommodations. When was the last time you checked the air quality in these dwellings? The average person typically spends 85% of their time indoors and according to the EPA and the air in the average household is 5x more polluted than the air outdoors. Breathing contaminated air for this long can have some serious effects.
Some common air quality issues that arise from an unchecked HVAC systems are:
The build up of allergens, bacteria and household chemicals circulating and polluting your home, humidity imbalances, home odors from pets and pollutants. As well as stale air, which harbors all of the above. High levels of these common indoor air quality issues can cause serious health risks for you and your family.
We know how important your health is to you, which is why we offer FREE indoor air quality monitoring during every service visit.
Get the best support for one of the most important (if not the most important) systems involved in your everyday life by becoming a Family Comfort Protection Plan holder today.
With our family comfort protection plan you'll have
Preferred Customer Status
Free Emergency visit
Discount on cost of repairs, replacements & upgrades
Maintained warranty on equipment
Assurance that the system is clean & functioning properly for the season
Increased efficiency & longevity of equipment
Seasonal clean air maintenance tuneup
All for less than the cost of one system maintenance tune up!
With Family HVAC you can ensure that you're treated like family, your systems are installed correctly, and the air you are breathing is healthy. We have a variety of payment options for new installs, replacements and repairs, as well as FREE in-house and virtual estimates right at your fingertips.
Contact Family Heating & Air Conditioning today for a FREE estimate.
House & Home - Ask The Expert
House & Home - Family HVAC Profile
House & Home - Best of 2021 Awards