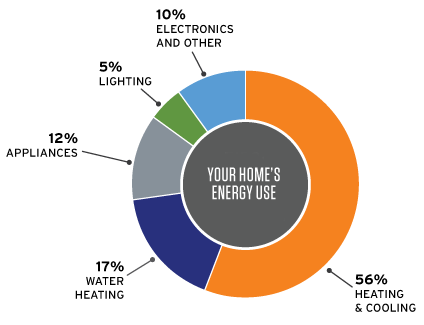 Affordable Smart Home Control at your Fingertips
In many homes, heating and cooling account for more than half of annual energy costs. Yet despite this, there is significant energy waste through inefficient use. If you install a zone-based thermostat, you can set different desired temperatures in each room.
Smart Home Automation
Fully automated home comfort
Using motion detectors, you can automatically activate your system in each zone as people enter and leave, and programmable thermostats will let you designate specific on and off times multiple times a day, so you can easily schedule the air conditioning to come on half an hour before you arrive home or turn the heat on automatically when you get up in the morning. The energy savings in the average home over just a few years will often pay for your entire home automation system!
Smart-home technology is easier and simpler than you might think
At Family Heating & Air Conditioning we will walk you through the set-up and get you on the road to true automated home management in no-time..
Contact Us
Smart Home Sensors
Work with our team and your smart technology to properly schedule maintenance for your HVAC systems.
With environmental sensor technology, the HVAC system—including the ducts and individual components—could send you warnings about possible malfunctions or abnormal activity within the equipment. This would notify you when you need to get your HVAC fixed before it completely breaks down, resulting in cost and time savings. With their predictive abilities, smart HVAC systems could eliminate HVAC breakdowns completely.
Additionally, smart sensors can tell you important information regarding the unit's efficiency, such as leaking air ducts or faulty ventilation systems.
Sensors would also be able to notify you of routine maintenance, such as filter replacements and professional tune-ups.